The last few hours of the workday can really be tough, and that's when you need a little extra Energy, and we can help with a dose of Dave Hunter, your afternoon "pick-me-up". Join Dave every afternoon starting at 3pm for the best of Today's Hits and Yesterday's Favorites, plus entertainment news, features and fun. Your afternoon Energy Drink has a name. Dave Hunter.

Dave Hunter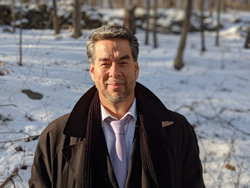 Hey there - Dave here...all the way from Alabama! That's where my broadcast journey started, not only in radio but also with Sunrise Broadcasting which owned a station near my hometown. They moved me here (taking the boy out Alabama, and you know what they say - you can't take the love for good barbecue out of the boy) and I have been a part of the Sunrise Broadcasting family ever since! I left radio for a while to pursue my voice acting career and built my own production company to do freelance voice acting and other ventures, such as live entertainment with trivia game shows, a "Back to the 80's" live interactive DJ show, as well as playing in an 80's cover band (I play keyboards and percussion). But the draw of radio brought me back in, so now I bring all these other ventures with me - taking radio entertainment to another place!
I enjoy sports (I love playing them more than watching them), reading, movies and trivia, the beach, and video production. I am a dreamer, a positive thinker and a Christian. I love the Hudson Valley and all the beauty it has to offer.
Personally, I am divorced with two loves of my life, my "mini-me" son and my dancing queen daughter.
Oh, and by the way, ROOOLLLL TIDE!